Medicine Flavours Preferred By Gender & Age
Testing different flavours used for making medicines taste better, and seeing if there are differences between ages or genders
Zack Rajesky
Grade 6
Hypothesis
•Kids and adults are going to like different flavors because their taste buds are different. Kids are going to like chocolate the best because it's the sweetest. Adults are going to like lemon the best because it isn't sweet.
•Males and females will like the same thing in each age group because there was no research that I could find showing that they would have different taste buds
Research
•My project is to figure out if boys or girls like different flavours for their medications, and if there is a difference between adults and kids
•We are using 5 flavours and then people rate them
•This will help ensure that everyone takes their medicine
•Researchers have studied (in 2013) that 90% of children that don't take their medications is due to them not tasting good
•The study also showed children are more sensitive than adults when it comes in flavours
•FlavoRx is a company that sells medicine flavours to many pharmacies worldwide. They have 13 different flavours
•FlavoRx flavours have been used over 150 million times
•40% of adults have trouble swallowing pills
•Children have 10,000 taste buds, but adults have only 5,000. That's why food taste different to kids
•Which medicine flavour tastes the best depending on gender and age?
Variables
•The taste rating of the tester
•The same proportion flavour to water
•Same container for each type of water
•Explain the rating system to everyone
Procedure
1.Measure 30ml of each medicine flavour (lemon, chocolate, bubblegum, strawberry, and mango) and put them in 400ml of water
2.Mix together in a plastic bottle
3.Ask a person if they would like to participate in the experiment, and if they say yes then tell them to try each flavoured water
4.Pour a small amount of each water in a medicine cup for them to try
5.Ask the person if they are 18 or older or under 18, and record if they are male of female
6.Then tell they person to rate the flavours from 1 to 10, 1 being horrible and 10 being the best. Record each answer
Observations
Qualitative Observations
•Some flavours are darker than others
•All flavours smell different
•Everyone that tried the flavours had a different reaction
Raw Data
| | | | | | | | |
| --- | --- | --- | --- | --- | --- | --- | --- |
| Person # | Adult / Child | Gender | Lemon | Chocolate | Mango | Bubblegum | Strawberry |
| 13 | C | M | 10 | 10 | 8 | 1 | 10 |
| 14 | C | F | 2 | 8 | 2 | 1 | 4 |
| 15 | A | M | 9 | 10 | 2 | 6 | 5 |
| 16 | C | M | 10 | 7 | 1 | 1 | 1 |
| 17 | A | F | 1 | 2 | 1 | 2 | 1 |
| 18 | A | F | 4 | 5 | 1 | 2 | 6 |
| 19 | C | M | 10 | 10 | 10 | 1 | 10 |
| 20 | A | F | 5 | 8 | 4 | 5 | 7 |
| 21 | A | M | 7 | 7 | 6 | 5 | 6 |
| 22 | A | F | 6 | 7 | 1 | 1 | 6 |
| 23 | C | M | 1 | 6 | 8 | 1 | 6 |
| 24 | A | F | 1 | 6 | 2 | 2 | 6 |
| | | | | | | | |
| --- | --- | --- | --- | --- | --- | --- | --- |
| Person # | Adult / Child | Gender | Lemon | Chocolate | Mango | Bubblegum | Strawberry |
| 1 | A | M | 1 | 7 | 6 | 7 | 2 |
| 2 | C | F | 3 | 2 | 1 | 9 | 7 |
| 3 | A | F | 6 | 8 | 3 | 1 | 4 |
| 4 | A | M | 8 | 6 | 5 | 2 | 7 |
| 5 | C | M | 10 | 9 | 1 | 6 | 1 |
| 6 | A | F | 8 | 9 | 4 | 4 | 8 |
| 7 | A | F | 7 | 7 | 2 | 9 | 3 |
| 8 | A | F | 9 | 6 | 6 | 1 | 2 |
| 9 | A | F | 6 | 3 | 1 | 1 | 4 |
| 10 | A | F | 7 | 3 | 2 | 3 | 4 |
| 11 | A | F | 1 | 1 | 1 | 1 | 1 |
| 12 | A | M | 10 | 7 | 1 | 1 | 6 |
Quantitative Observations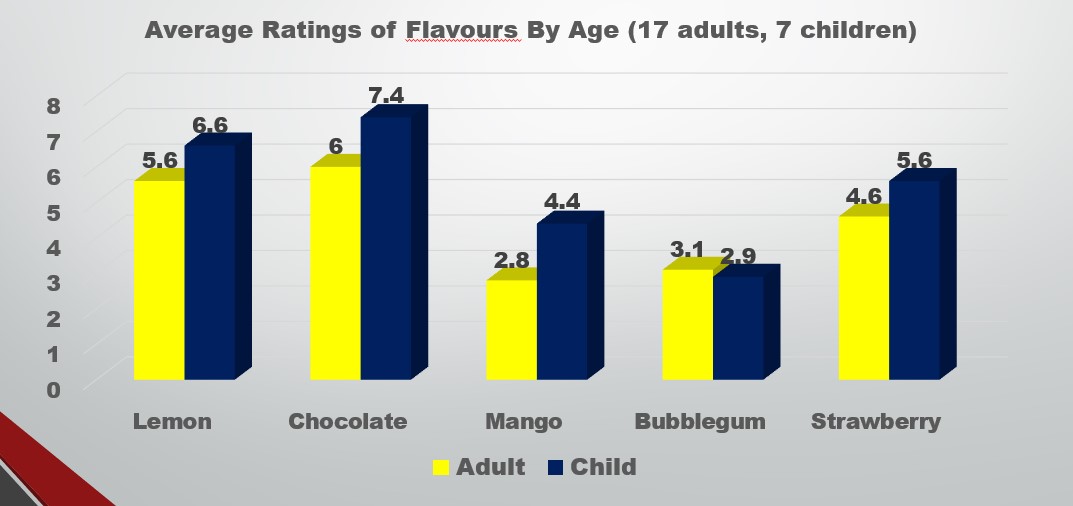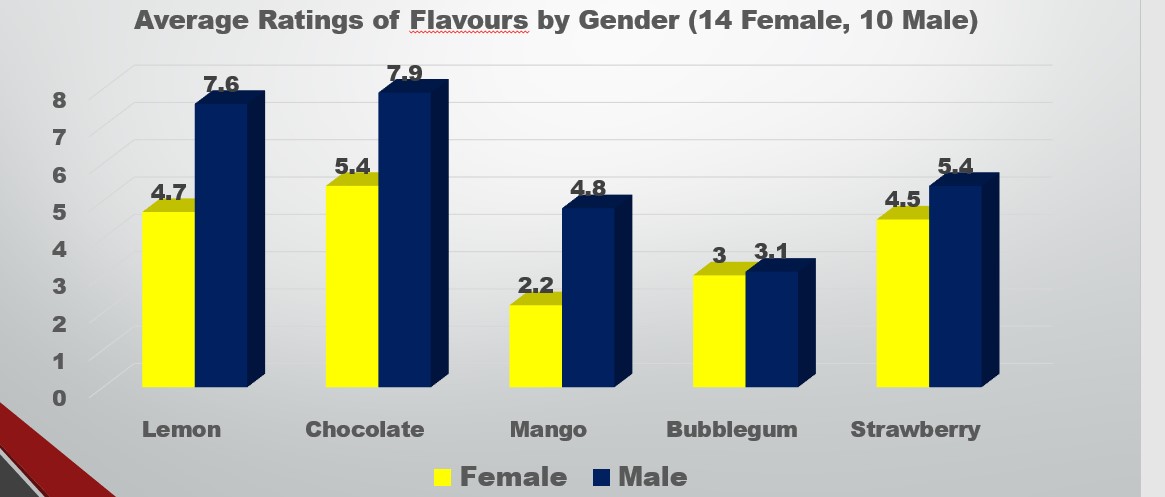 Analysis
•There was no difference in adult and children on their favorite flavour
•There was no difference in a male or female on their favorite flavour
•Chocolate was the favorite flavour for adults, children, male, and female
•There is a difference for adults least favorite flavor than a child. Adults least favorite is mango and child it is bubblegum
•There is a difference for gender least favorite flavor. Female least favorite is mango and male it is bubblegum
Conclusion
•Part of my hypothesis is correct because adults and children both liked chocolate the best, and there is no difference between males and females favorite flavour
Application
•When people ask which medicine flavour we recommend we will know from this experiment based on their age and gender
•We will increase the number of people that take their medicines
Sources Of Error
•Flavours were tested in different orders for each person
•We mixed the flavours in water instead of usual liquids for medicine
•We didn't use actual medicine
•Some flavours are stronger than others
•Use what we would usually use for liquids for medicines
•Test the flavours in actual medicines
•For the stronger flavours use less of them
Acknowledgement
Thank you to everybody who particapated in my experiment and everybody at the pharmacy for letting me use the store for my experiment. Thank you to Hollie for writing up my letter of authority:
•"Medicine Flavours Preferred by Gender and Age" is a well-developed and methodical experiment that has a relevant application in retail pharmacy practice today. The data collected and conclusions derived could be a useful tool to help improve liquid medication compliance, especially in children who may otherwise refuse therapy."
•Hollie Gamble B.Sc. (Pharm)
Copperfield Pharmasave