Light Bulb Type and Plant Growth
Bean plants were grown using four different plant growth light bulbs to determine which bulb produced the highest growth.
Colton Yeo
Grade 6
Hypothesis
Hypothesis
Based on the research and considering that all the plant grow light bulbs are supposed to have a light spectrum that supports photosynthesis, the light bulb that also provides warmth to the soil will have the best growth. For this experiment the GE incandescent plant light bulb should provide the best plant growth.
Research
Introduction
Growing plants indoors successfully is more than just dropping seeds into soil and applying water. Successful plant growth is balancing three critical aspects to a plant: the amount of available water, soil conditions, and amount of and type of light. This experiment looks at one aspect of growing plants, which is the type of light. What are the components of a good artificial light? There are several claims, lab analyses and guarantees on the boxes of grow light bulbs in the garden center all proclaiming the benefits of purchasing their product. This experiment will test out three brands of grow light bulbs across a range of price points by growing pole bean plants for a period of seven weeks while charting their growth.
Purpose
The purpose of this experiment is to determine what difference exist in plant growth using different brands and types of plant grow light bulbs.
Problem
This problem which this experiment will attempt to answer is: Which brand of plant grow light bulb is the best for plant growth?
Research
Plant growth is dependent on three primary conditions: The amount of water, the soil conditions, and the amount and type of sunlight.
The right amount of water is important for plant growth (Higgins, 2015). Too much water much water for example, causes plants to slowly have brown leaves that are soft and limp, and could have a condition called edema, which are blisters or lesions on the plant from cells that are oversaturated with water (Teleflora Blog, 2014). On the other hand, plants that do not have enough water causes plants to grow slowly or not at all. A lack of water can cause brown leaves, but in this case the leaves will be dry and crispy, and further there may be yellow or dying leaves at the bottom of the plant as well (Mierzejewski, 2018). Therefore, it is a fine balance of water for the best plant growth. Observing the color and the condition of the leaves give clues as to the amount of water the plant has access to.
The next condition for plant growth is soil conditions. A search of the Internet has countless websites listing their version of an optimal potting soil. Ingredients commonly listed and in various proportions on these websites are: coco coir (coconut husks), compost, kenaf, peat moss, perlite (white looking Styrofoam pellets which is really a volcanic mineral), sand, vermiculite (mined mineral) and worm casings. While many could debate what the optimal potting soil mix is, and many plant growth studies could be done to test what the right soil composition is, there are three main soil ingredients that really matter for plant growth. These three ingredients are: nitrogen (N), phosphorus (P), and potassium (K). Nitrogen is part of the chlorophyll molecule and is an important part of photosynthesis (Mas, 2013). The second ingredient phosphorus (P) helps the plant convert other nutrients into usable building blocks for growth (Rhoades, 2018). Lastly, potassium (K) helps the plant regulate water, and activates enzymes to produce Adenosine Triphosphate (ATP) which is an important energy source for chemical processes in the plant (Smart Fertilizer Management, 2018). While there seems to be no adverse impact on excess nitrogen or phosphorous in the soil on plant growth, too much potassium can be problematic because of its high salt index. The salt will cause the plant to burn as it soaks up all the plant's moisture (Smart Fertilizer management, 2018). Therefore, if a potting soil has high levels of nitrogen and phosphorus, and not too much potassium, plants should have the nutriments needed for growth.
Light is critical to plant growth, as without sunlight a plant cannot perform photosynthesis. Duplicating both the intensity and duration of sunlight, along with the proper light spectrum is critical for growing plants indoors. Certain plants prefer more hours of light than others. Short day plants thrive on less than 12 hours of sunlight, and day-neutral plants prefer 8 to 12 hours, and long day plants thrive on 14 to 18 hours of light (Gardener's Supply Company, 2019). Tied to hours of natural sunlight is the temperature of the soil. One of the challenges with growing plants indoors, is that the artificial light may not provide the correct soil temperature for best plant growth. It is recommended that plants grown indoors are kept at a temperature between 15 and 24 degrees Celsius (Houseplant Experts, 2019). Growing plants indoors requires the use of plant grow lights. Regular light bulbs are meant for humans and specific purposes inside a house and may support the general growth of a plant, however a plant grow light has a custom light spectrum designed to support photosynthesis (Backyard Boss, 2019). Therefore, when selecting a light source to grow a plant it is important to keep in mind the amount of light (time) that is required, the soil temperature and the light spectrum for its growth.
Variables
Variables
Independent:
The independent variable for this experiment is the potting soil mix. For this experiment, four types of light bulbs: a) Miracle LED Absolute Daylight Spectrum Grow Lite; b) Sun Blaster 26w 6400K Propagation and Growth CFL Bulb; c) GE 65w Incandescent Plant Light; and d) Great Value 60w Incandescent Light Bulb
Dependent:
The dependent variable for this experiment is the average height of the four bean plants for each bulb type (16 bean plants in total) measured with a tape measure in centimeters.
Controlled:
There were 5 controlled variables in this experiment:
Amount of water, which was 60ml applied to each plant on every Sunday and Wednesday.
Type of plant seed (Pole Beans), which was a bean plant chosen for quick germination.
Type of soil, all plants were grown in the same potting soil.
Amount of light, all plants were grown with the same amount of light with a timer.
Flowerpot size and the amount of potting soil in each pot.
Procedure
Materials
The materials used in this experiment were:
Pole Bean plant seeds (BN132B), purchased from Amazon.
Potting soil: Miracle Gro Potting Mix, purchased from Walmart.
20-ounce plastic flowerpots purchased from Amazon.
60 ml measuring cup.
Pitcher for water.
Plastic dish washing tubs to keep flowerpots from moving and draining into the light box (purchased from Dollarama).
Grow light bulbs: a) Miracle LED Absolute Daylight Spectrum Grow Lite; b) Sun Blaster 26w 6400K Propagation and Growth CFL Bulb; c) GE 65w Incandescent Plant Light; and d) Great Value 60w Incandescent Light Bulb. (Bulbs A, B and C were purchased from Amazon, and bulb D purchased from Walmart)
A light box (4' x 8') with 4 equal 2' chambers was built from chip board and electrical supplies from Lowe's
Indoor light timer.
7.5-meter measuring tape.
5/16 dowel for the bean plants to attach to during growth.
Notebook, pencil and camera.
Procedures
For this experiment the following procedures were followed:
The grow light box, light bulbs, flowerpots and plastic tray were first set up. The grow lights were plugged into the wall outlet with a light timer and was on for 15 hours a day (6:30am to 9:30pm) throughout the experiment.
The 20-ounce flowerpots were labeled as follows:

LED, the 4 flowerpots were labeled: LED 1, LED 2, LED 3 and LED 4.
CFL, the 4 flowerpots were labeled: CFL 1, CFL 2, CFL 3 and CFL 4.
Incandescent, the flowerpots were labeled: Incandescent 1, Incandescent 2, Incandescent 3, and Incandescent 4.
Regular, the flowerpots were labeled: Regular 1, Regular 2, Regular 3, and Regular 4.

The cups were filled completely to the top with the potting soil and was packed down lightly so that 2 cm of the cup was exposed.
1 pole bean seed was planted 2 centimeters deep into each of the flowerpots.
60 milliliters of water were added to each cup.
The flowerpots were then placed under the subject grow lights.
The flowerpots were checked for plant growth every week, and the plant growth was measured in centimeters using a tape measure. The results were photographed and recorded in a logbook for seven weeks
The plants were watered (60 milliliters) twice per week (Sundays and Wednesdays).
Observations
Results
Table(s)
Table 1: Bean Plant Growth (measured in centimeters)
| | | | | | | | |
| --- | --- | --- | --- | --- | --- | --- | --- |
| | Nov 16 | Nov 23 | Nov 30 | Dec 7 | Dec 14 | Dec 21 | Dec 28 |
| LED Pot 1 | 0 | 0 | 21 | 28 | 38 | 44 | 48 |
| LED Pot 2 | 1 | 30 | 62 | 70 | 74 | 76 | 79 |
| LED Pot 3 | 1 | 30 | 33 | 33 | 33 | 33 | 33 |
| LED Pot 4 | 0 | 25 | 62 | 64 | 67 | 67 | 68 |
| CFL Pot 1 | 1 | 18 | 53 | 62 | 62 | 67 | 73 |
| CFL Pot 2 | 0 | 0 | 22 | 50 | 50 | 66 | 72 |
| CFL Pot 3 | 0 | 19 | 62 | 62 | 67 | 74 | 79 |
| CFL Pot 4 | 1 | 22 | 63 | 70 | 77 | 80 | 86 |
| Incandescent Pot 1 | 2 | 26 | 34 | 41 | 41 | 41 | 42 |
| Incandescent Pot 2 | 0 | 0 | 0 | 0 | 0 | 0 | 0 |
| Incandescent Pot 3 | 2 | 32 | 62 | 72 | 84 | 92 | 97 |
| Incandescent Pot 4 | 0 | 5 | 42 | 58 | 73 | 75 | 78 |
| Regular Bulb 1 | 2 | 40 | 64 | 72 | 72 | 72 | 72 |
| Regular Bulb 2 | 0 | 0 | 5 | 6 | 6 | 6 | 6 |
| Regular Bulb 3 | 1 | 18 | 25 | 28 | 28 | 29 | 29 |
| Regular Bulb 4 | 2 | 36 | 67 | 67 | 72 | 79 | 83 |
The above table is the raw data of the pole bean plant growth over the seven-week period measured in centimeters.
Table 2: Average Bean Plant Growth by Light Type (measured in centimeters)
| | | | | |
| --- | --- | --- | --- | --- |
| Date | LED Average | CFL Average | Incandescent Average | Regular Bulb Average |
| 16-Nov | 0.5 | 0.5 | 1.33 | 1.25 |
| 23-Nov | 21.25 | 14.75 | 21 | 23.5 |
| 30-Nov | 44.25 | 50 | 46 | 40.25 |
| 7-Dec | 48.75 | 61 | 57 | 43.25 |
| 14-Dec | 51.75 | 64 | 66 | 44.5 |
| 21-Dec | 55 | 71.75 | 69.33 | 46.5 |
| 28-Dec | 57 | 77.5 | 72.33 | 47.5 |
The above table is the averaged raw data of the pole bean plant growth over the seven-week period measured in centimeters. Plants that did not grow, were excluded from the calculation.
Graphs
Graph 1: Pole Bean Plant Growth with Miracle LED Absolute Daylight Spectrum Grow Lite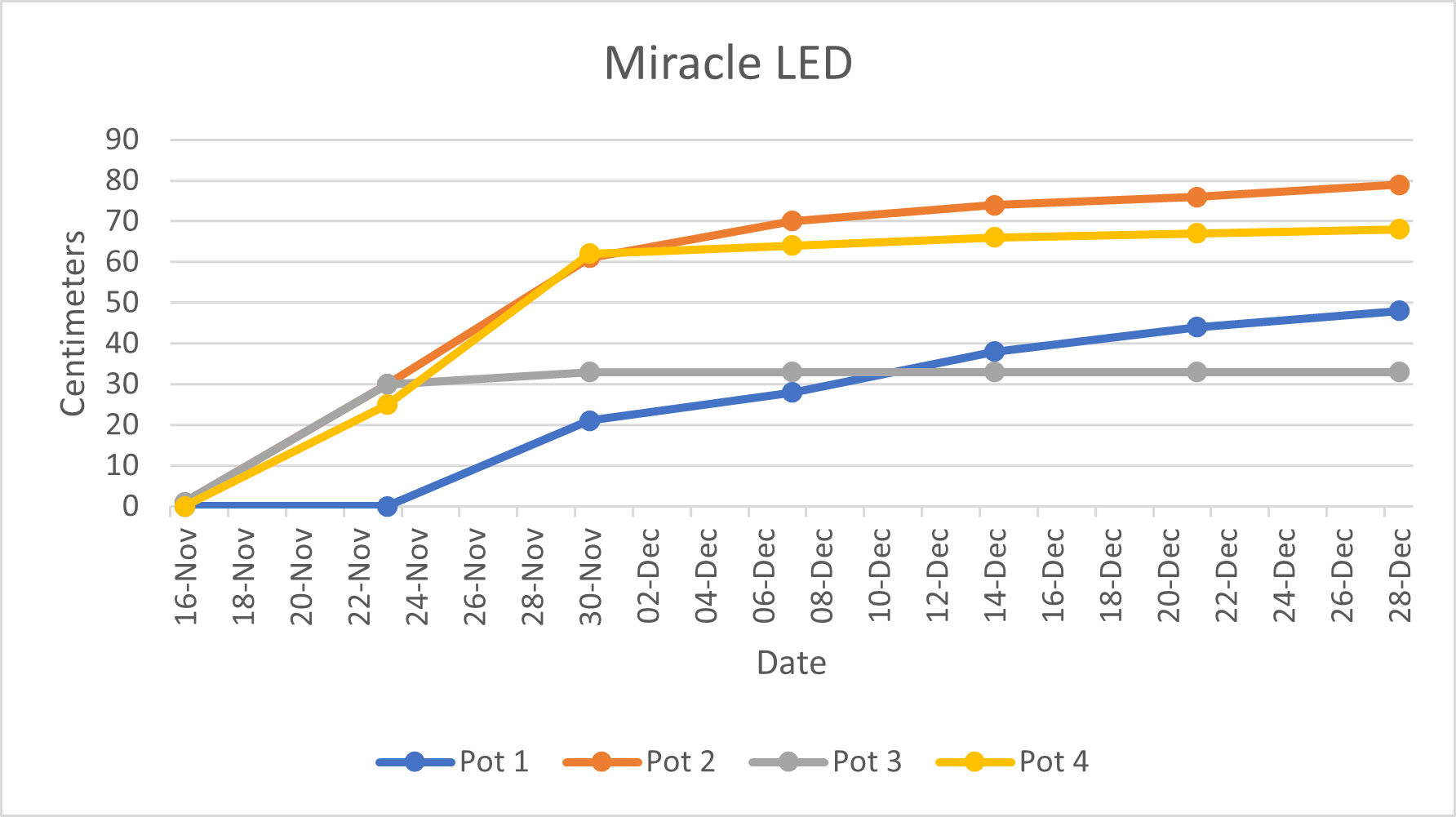 Graph 2: Pole Bean Plant Growth with Sun Blaster 26w 6400K Propagation and Growth CFL Bulb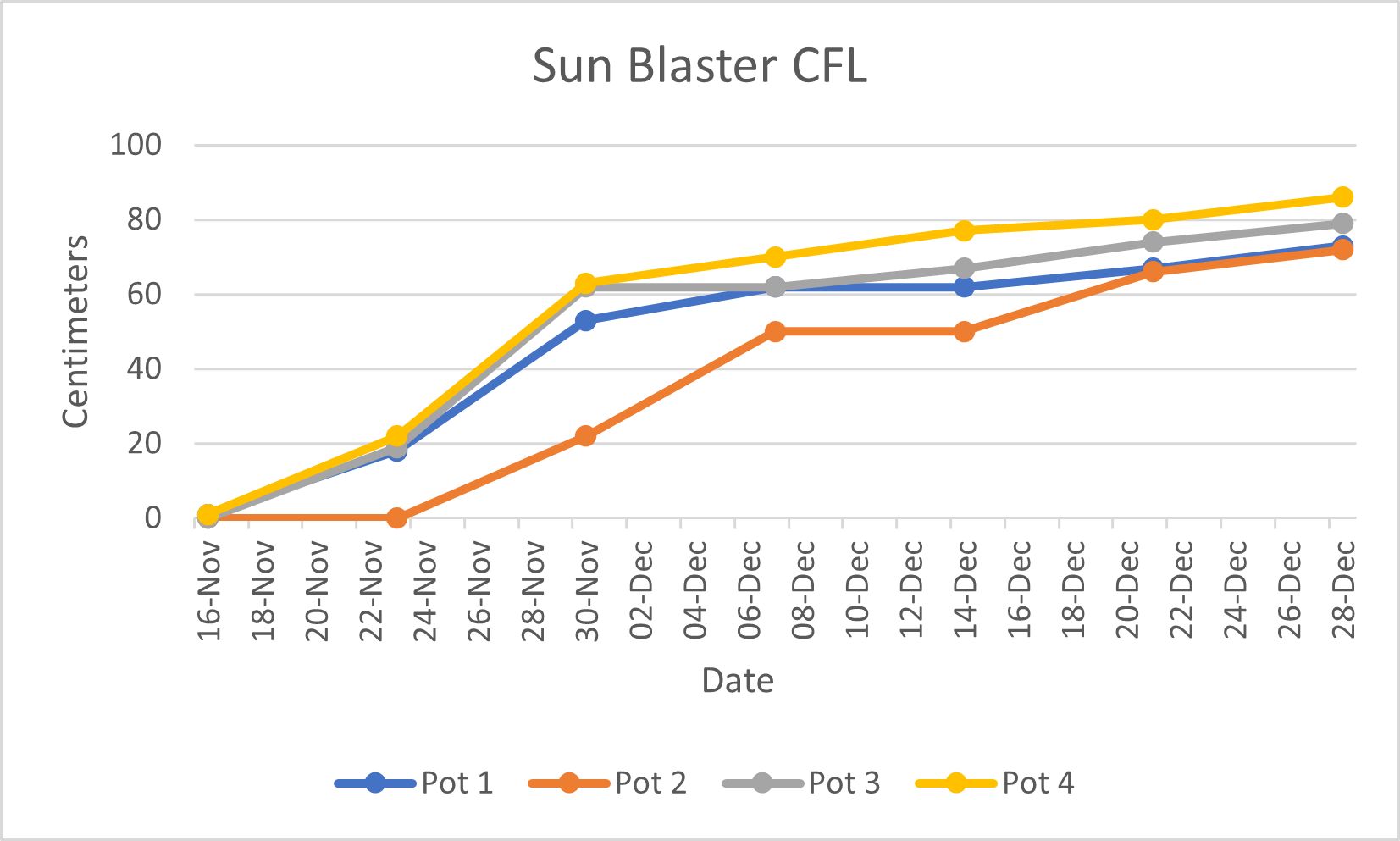 Graph 3: Pole Bean Growth with GE 65w Incandescent Plant Light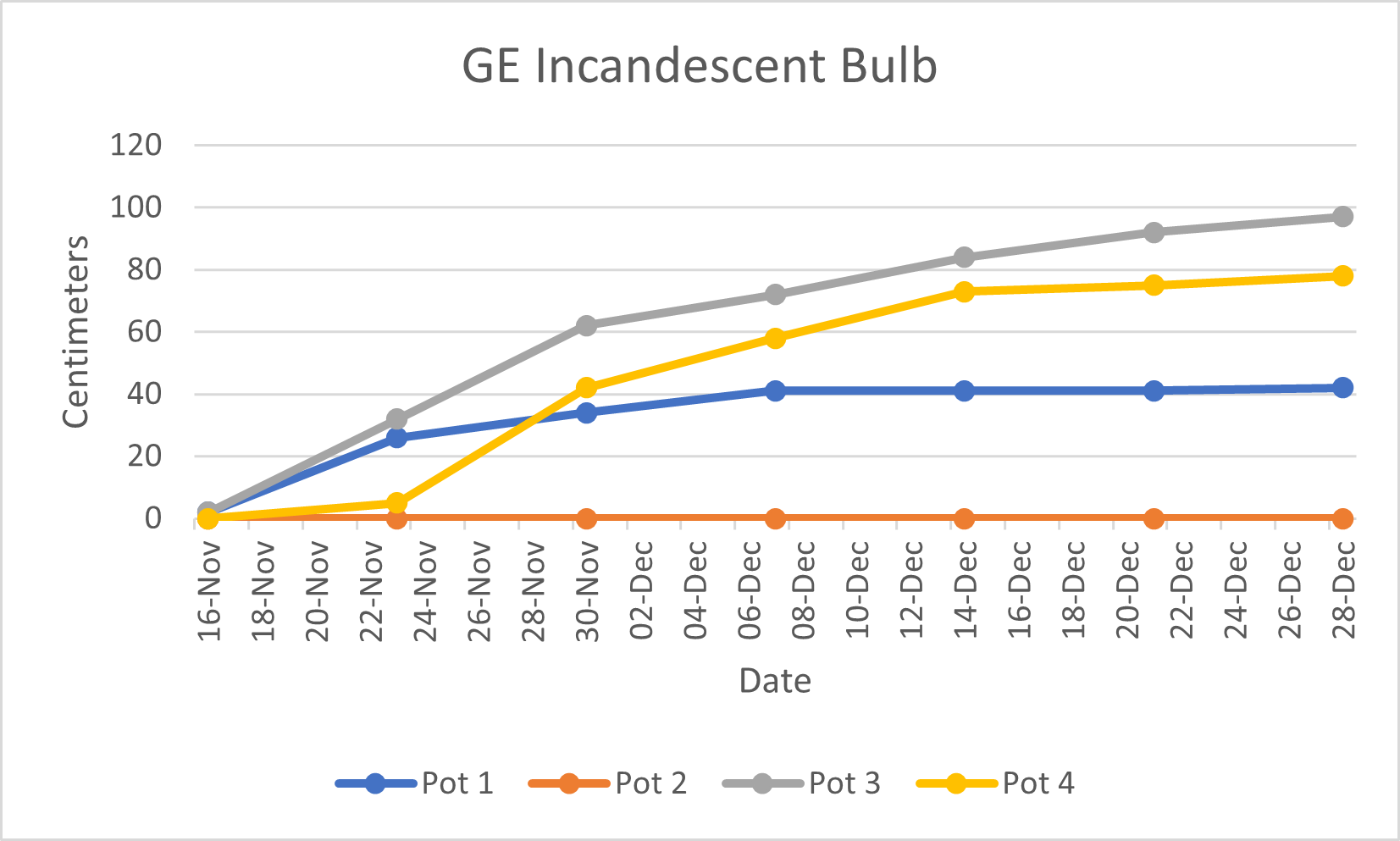 Graph 4: Pole Bean Growth with Great Value 60w Incandescent Light Bulb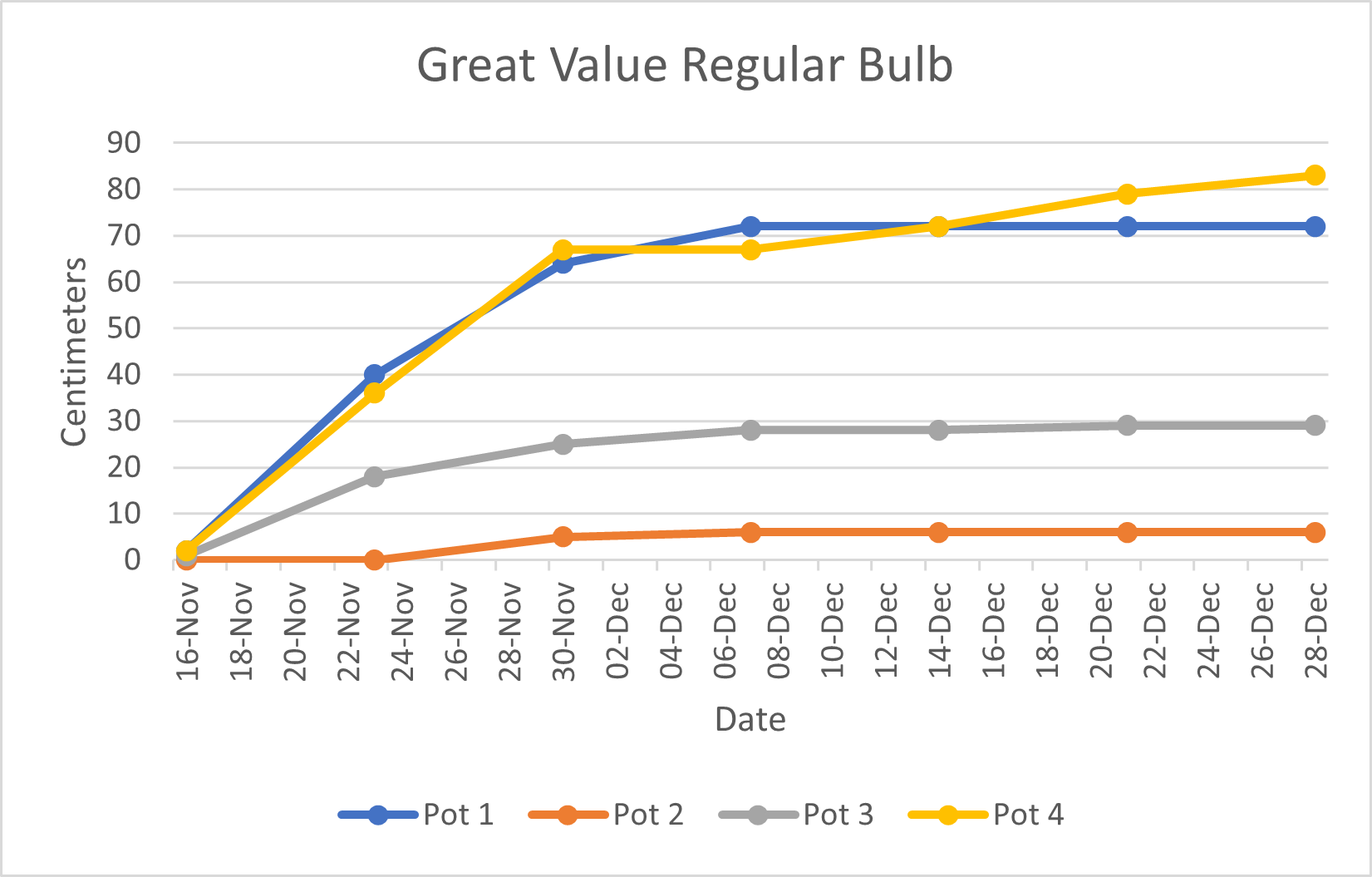 Graph 5: Compared Average Pole Bean Growth Using Different Growth Lights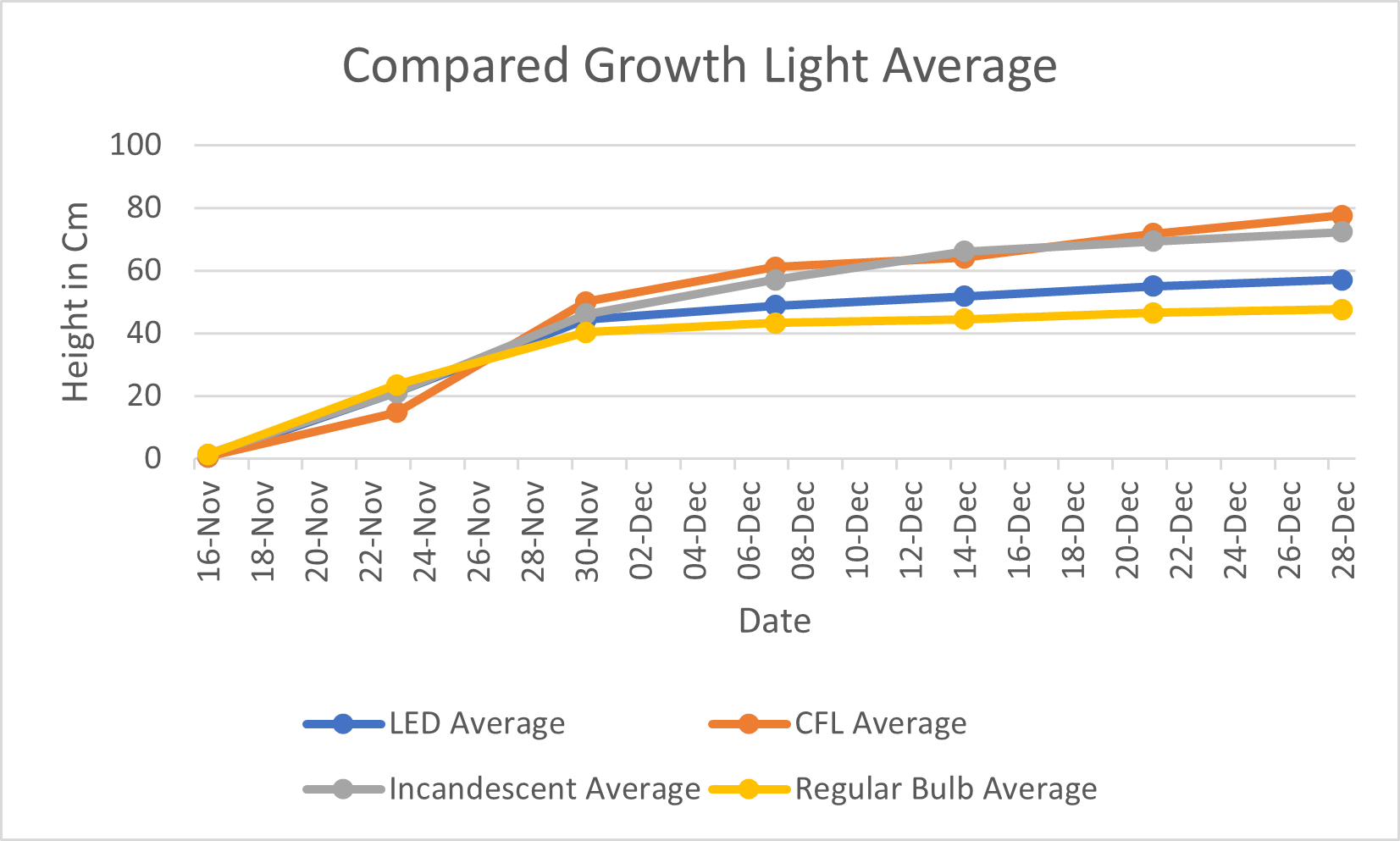 Photograph 1: Week 1 of Growth (Nov 10 to Nov 16)
Photograph 2: Week 2 of Growth (Nov 17 to Nov 23)
Photograph 3: Week 3 of Growth (Nov 24 to Nov 30)
Photograph 4: Week 4 of Growth (Dec 1 to Dec 7)
Photograph 5: Week 5 of Growth (Dec 8 to Dec 14)
Photograph 6: Week 6 of Growth (Dec 15 to Dec 21)
Photograph 7: Week 7 of Growth (Dec 22 to Dec 28)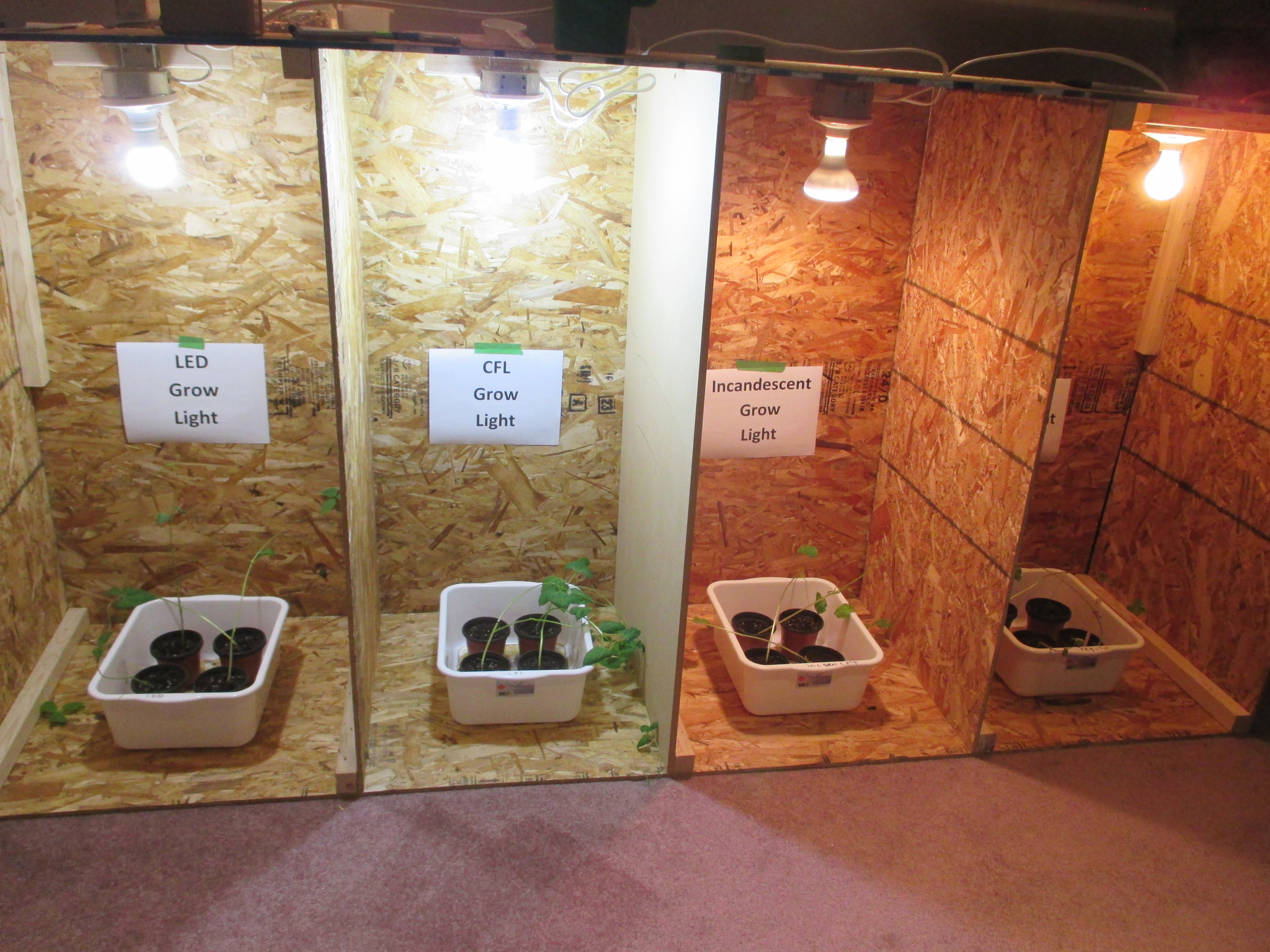 Analysis
Analysis
The results from this experiment showed that heat from both the GE incandescent plant grow light, and regular light source did allow for early plant growth compared to the LED and CFL light sources. However, over the seven-week span, the compact fluorescent (CFL) light provided the best overall growth. The GE incandescent plant grow light had the second-best growth, with the LED grow light having the third best growth. The regular incandescent light bulb had the worst growth which supports the research that stated that regular light bulbs are not intended to support indoor plant growth.
Conclusion
Conclusion
After completing this experiment, the results have shown that the hypothesis of using an incandescent plant growth light bulb that can both warm the soil and provide the specific spectrum of light needed for plant growth, did achieve better early plant growth. However, an incandescent plant light bulb does not necessarily achieve best long-term growth, as the compact fluorescent (CFL) bulb that provides no soil heat, had the best overall plant growth at the end of the experiment. The worst performing plant grow light was the LED bulb, which had an average plant growth that was 20.5 centimeters less than the CFL plant growth bulb.
Application
Application
Based on the results of the experiment, if plants were to be grown indoors, the compact fluorescent (CFL) bulb is the best choice as it produced the best plant yield in this experiment. Further, a CFL bulb is better for the environment, as the amount of energy used to power the bulb is less (39 watts) than the incandescent bulb, even when taking into consideration of the early plant growth measured during the first week of the experiment. However, it is important to note that this experiment was conducted in the basement of a house where the room temperature was 20 degrees Celsius. If this experiment was conducted outside in an unheated greenhouse the results would likely be different.
Sources Of Error
Sources of Error
If I were to repeat this experiment again, I would use three different brand name CFL and three different LED light bulbs to determine if the light spectrum emitted between the manufactures has an impact on plant growth. Perhaps it was the quality of the LEDs used in the light bulb, or the construction of the bulb itself that had an impact on the plant growth results in this experiment. By using 3 different brands of CFL plant growth bulbs, it would strengthen or question the results obtained in this experiment.
Citations
Bibliography
Backyard Boss (2019). Grow Lights Vs Regular Lights: The Best Lighting For Your Needs. https://www.backyardboss.net/grow-lights-vs-regular-lights-the-best-lighting-for-your-needs/
Gardeners Supply Company (2019). Gardening Under Lights. https://www.gardeners.com/how-to/gardening-under-lights/5080.html
Graves, Marlie (2015, September 14). What Are Signs of Too Much Sunlight or Water For Plants. https://www.quora.com/What-are-signs-of-too-much-sunlight-or-water-for-plants
Higgins, Nadia (2015). Experiment With What a Plant Needs to Grow. Minneapolis, Minnesota: Lerner Publications
House Plants Expert (2019). Indoor Plants Temperature Guide. https://www.houseplantsexpert.com/indoor-plants-temperature-guide.html
Mas, Joseph (2013, May 7). How Does Nitrogen Help Plants Grow? http://www.phoslab.com/how-does-nitrogen-help-plants-grow/
Mierzrjewski, Kathee (2018). How Can You Tell Plants Have Too Little Water? https://www.gardeningknowhow.com/plant-problems/environmental/under-watering.htm
Rhoades, Heather (2018, May 4). The Importance of Phosphorus in Plant Growth. https://www.gardeningknowhow.com/garden-how-to/soil-fertilizers/phosphorus-plant-growth.htm
Smart Fertilizer Management (2018). Potassium in Plants. https://www.smart-fertilizer.com/articles/potassium-in-plants
Teleflora Blog (2014, August 25). Are You Sure That Plant Needs Water? 5 Signs of Overwatering. https://www.teleflora.com/blog/are-you-sure-that-plant-needs-water-5-signs-of-overwatering/
Acknowledgement
I would like to thank the following people who helped me with my science fair project:
Ms. Bossenberry - Woodbine School
Ms. Caddel - Woodbine School