Does The COVID-19 Pandemic Affect School Children's Mental Health
I am doing a research project. I am planning to do a survey with school kids to see how COVID-19 affects the mental health of school age kids and also researching information available on the internet and other resources.
Nikitha Thomas
Grade 5
Problem
Does The COVID-19 Pandemic Affect School Children's Mental Health?
To look deeper into my topic, I am also researching the question:
How Has Covid-19 Affected The Mental Health Of School Children?
Method
For my methods, I mainly used results from a survey I conducted to find my results and analyzed those results. My supporting sources of data were to research on the internet on and news media's. I also used books to find out some information about my topic. My survey had questions such as "Has your behaviour changed due to COVID-19?" and "Has your stress levels increased?" and "Did your concentration levels changed the coronavirus began?" This survey was done with students aged 10-15.
Research
During my reserach, I found that social isolation, removal from school and daily routines, as well as isolation and loss associated with illness, are some of the top stressors children are facing. Children may be feeling new worries about bringing germs home, or they may be facing stress about the changes in school routines and classmates. Some struggle with managing their mental health at school and others may experience separation anxiety. Some children struggle with socializing and peer relationships or face challenges orienting to a new environment. There is stress associated with fear that family members, friends, or they themselves (the kids) will become ill/infected by the novel Coronavirus. In a survey that was on the internet, I found out that nearly two-thirds of youth said that their mental health had gotten worsen since the pandemic and over 60 percent of youth reported feeling a combination of worried, upset, sad, and angry about the ability to see their friends and not knowing what is going to happen in the future. Children avoid leaving their homes as much as possible. Now more than ever, they avoid eye contact and speaking to others--even people they are really close with. Children are having a hard time sleeping and many children suffer from depression and anixety since this pandemic began. I noticed that parents are getting stress which makes the children even more stressed. Shutdowns of schools, a reduced social life, changes in physical activity and routines and sleep patern changes all make the mental health of school kids worse. When children don't know what is going on around the world, they feel very stressed. Right now, children don't feel safe--even around family or friends which is another trigger of stress. Children who lose a loved one due to COVID-19 have a mental health crisis.
Data
When I conducted a survey, I found that for Ages 10-13, about 66% of the responses told me that they had behavioural changes, stress level increases and concentration decreases. I found that for ages 13-15, about 90% of the reponses said that they had behavioural changes and stress level increases. Finally, for the final age group, ages 15-16, about 93% of the participants said that they had behavioural changes and stress level increases. So I would say in general, 83% of the students told me that their stress levels increased, concentration levels decreased and had behavioural changes.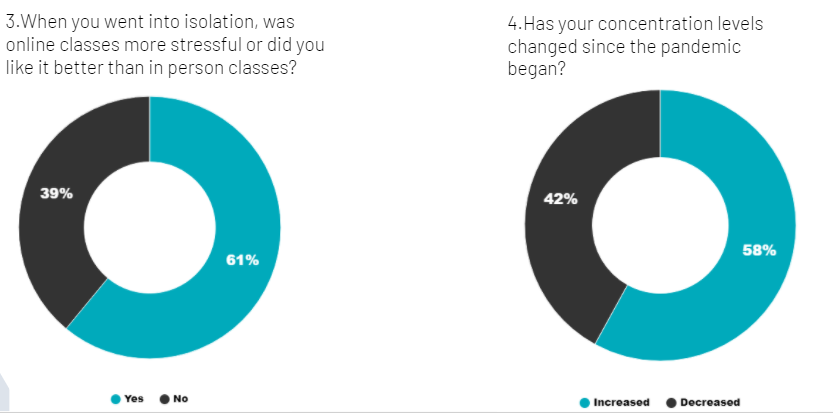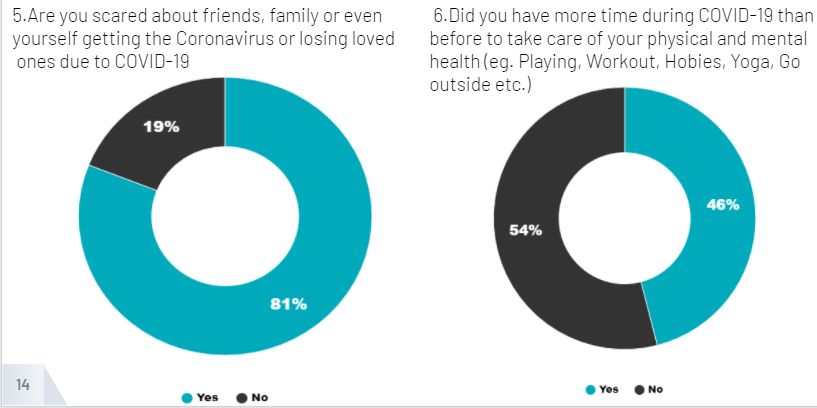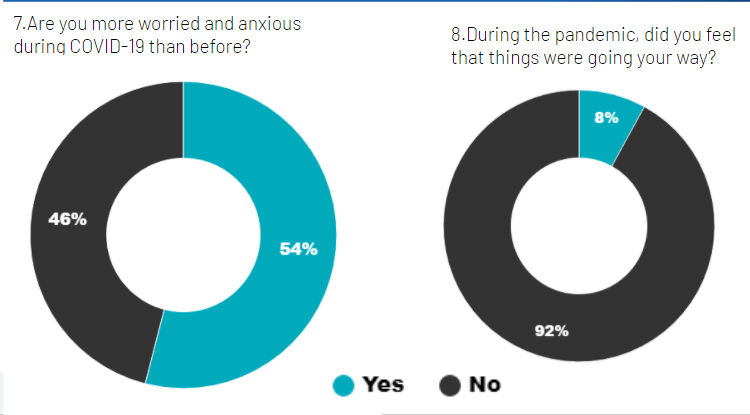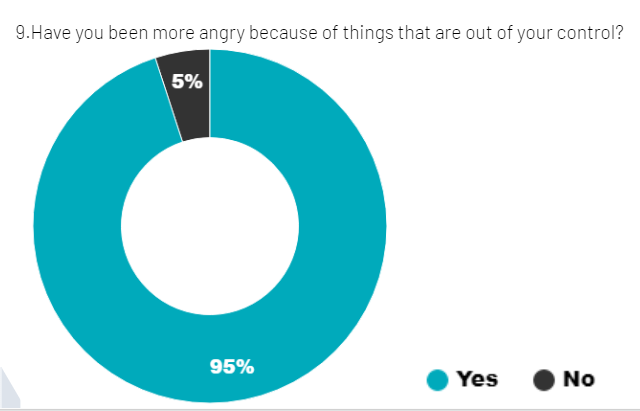 Conclusion
My original question was "Does The COVID-19 Pandemic Affect School Children's Mental Health? The purpose of this project was to find out if COVID-19 had affected school children's mental health and how COVID-19 affects school children's mental health. I used various methods such as conducting a survey and researching online to find out the answer to this question. My survey said about 83% of school children ranging from age 10-15 said that they had behavioural changes, stress level increases, were feeling more worried and anxious, increased their screen time, had less time during COVID-19 to take care of their mental and pyshical health, had decreased concentration levels etc. 1 question that emerged while I was completeing this project was "Which part of the brain in children does COVID-19 affect?" which is a question I could research to take my reasearch project 1 step further. So to conclude and answer my original question, COVID-19 does affect the mental health of school kids.
Acknowledgement
I wish thank the following people, without whom I would not have been able to complete this project. First and foremost, I have to thank my parents for their love and support throughout this project. I would like to say thank you to my science teacher for providing guidance and feedback throughout this project. I would love to pay my special regards to the students who were so generous with their time in completing my survey. I would also like to extend my deepest gratitude to the teachers who let me survey their students. This really helped my research.